A STUDY ON
LENS CHARACTERISTICS
---
CHROMATIC ABERRATION
Chromatic aberration is a failure of a lens, as a result of which light rays focus at different points depending on the wavelength. Lateral Chromatic Aberration is only seen at the edges of an image. Some lenses create complex color fringing that often combines two complimentary color types: red & cyan and/or blue & yellow.
PETZVAL FIELD CURVATURE
"Lens Blur / Petzval's curvature of field" is an optical problem that causes a flat object to appear in focus only in a certain part of the image, instead of being consistently sharp over the entire image area. It does this because of the curved nature of optical elements, which project the image curved rather than flat.
LENS DISTORTION
Distortion takes place when the straight lines of an image appear curved or misshapen in an unusual way for the eye. Lens distortion is primarily characterized by very regular and symmetrical patterns. The three most common types are known as "barrel distortion", "pincushion distortion" and "mustache distortion".
Here are some stills from movies and TV shows with these lens characteristics.
Some are captured "in camera". Others were made in post-production.
---
CHROMATIC ABERRATION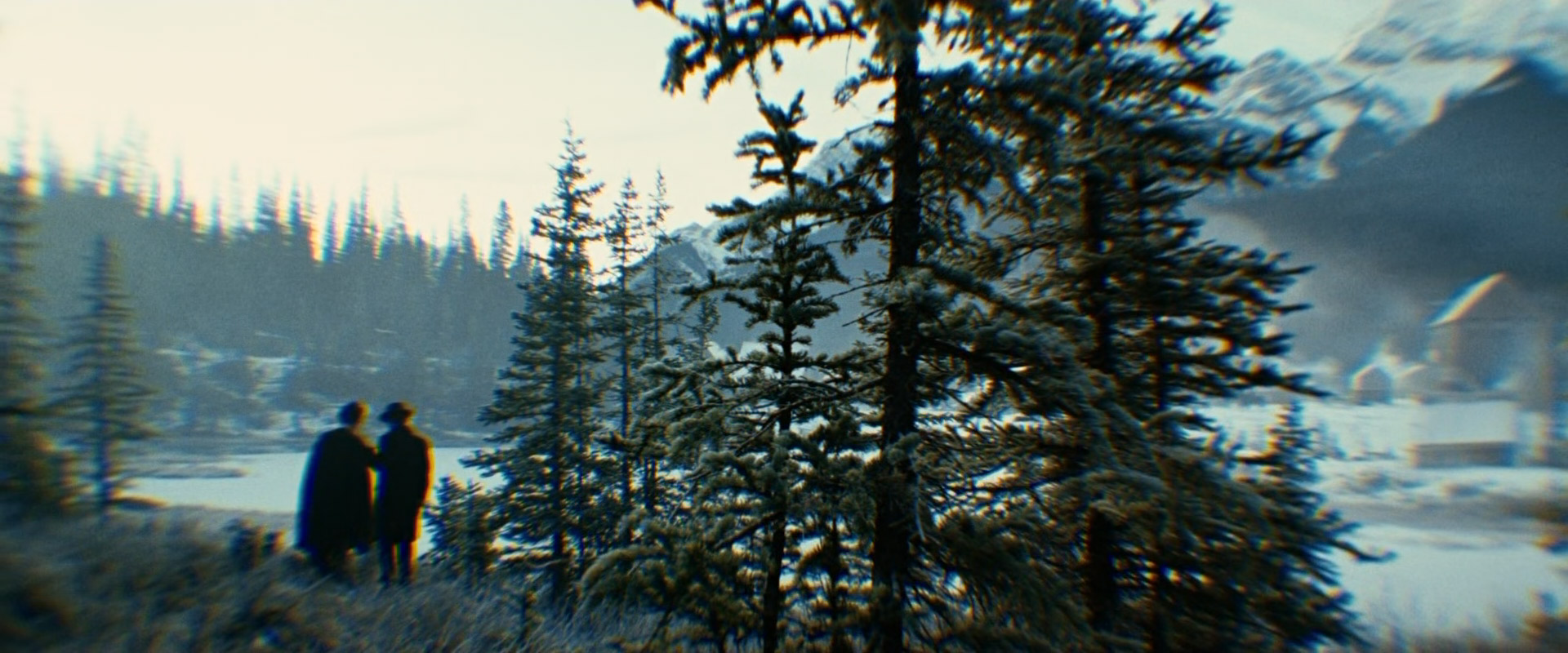 The Assassination of Jesse James by
the Coward Robert Ford (2007)
Directed by Andrew Dominik
© Warner Bros. Pictures

Cinematography by Roger Deakins
Digital intermediate colorist: Michael Hatzer / EFilm

Camera & Lenses:
Arricam LT, Arriflex 535B,
Cooke S4,
Arri Macro,
Kinoptik Tégéa and
Kardan Shift & Tilt Lenses
Phantom Thread (2017)
Directed by Paul Thomas Anderson
© Universal Pictures

Cinematography by Paul Thomas Anderson
(uncredited)
Colorist: Gregg Garvin

Camera & Lenses:
Panavision Panaflex Millennium XL2,
Panavision Ultra Speed Z-Series MKII Lenses



Sex Education (TV series / 2019 – 2021)
Created by Laurie Nunn
Production company: Eleven Film
© Netflix

Cinematography by Jamie Cairney, Oli Russell
Colorist: Thomas Urbye / The Look (23 episodes, 2019-2021)
---
LENS BLUR / PETZVAL FIELD CURVATURE
Homecoming (TV Series – 2018)
Directed by Sam Esmail / Kyle Patrick Alvarez
© Amazon Prime Video

Cinematography by Tod Campbell, Jas Shelton
Colorist: Walter Volpatto

Camera & Lenses:
Panavision Millennium DXL,
Panavision G-Series Lenses
Homecoming (TV Series – 2018)
Directed by Sam Esmail / Kyle Patrick Alvarez
© Amazon Prime Video

Cinematography by Tod Campbell, Jas Shelton
Colorist: Walter Volpatto

Camera & Lenses:
Panavision Millennium DXL,
Panavision G-Series Lenses
Homecoming (TV Series – 2018)
Directed by Sam Esmail / Kyle Patrick Alvarez
© Amazon Prime Video

Cinematography by Tod Campbell, Jas Shelton
Colorist: Walter Volpatto

Camera & Lenses:
Panavision Millennium DXL,
Panavision G-Series Lenses
Homecoming (TV Series – 2018)
Directed by Sam Esmail / Kyle Patrick Alvarez
© Amazon Prime Video

Cinematography by Tod Campbell, Jas Shelton
Colorist: Walter Volpatto

Camera & Lenses:
Panavision Millennium DXL,
Panavision G-Series Lenses
---
LENS DISTORTION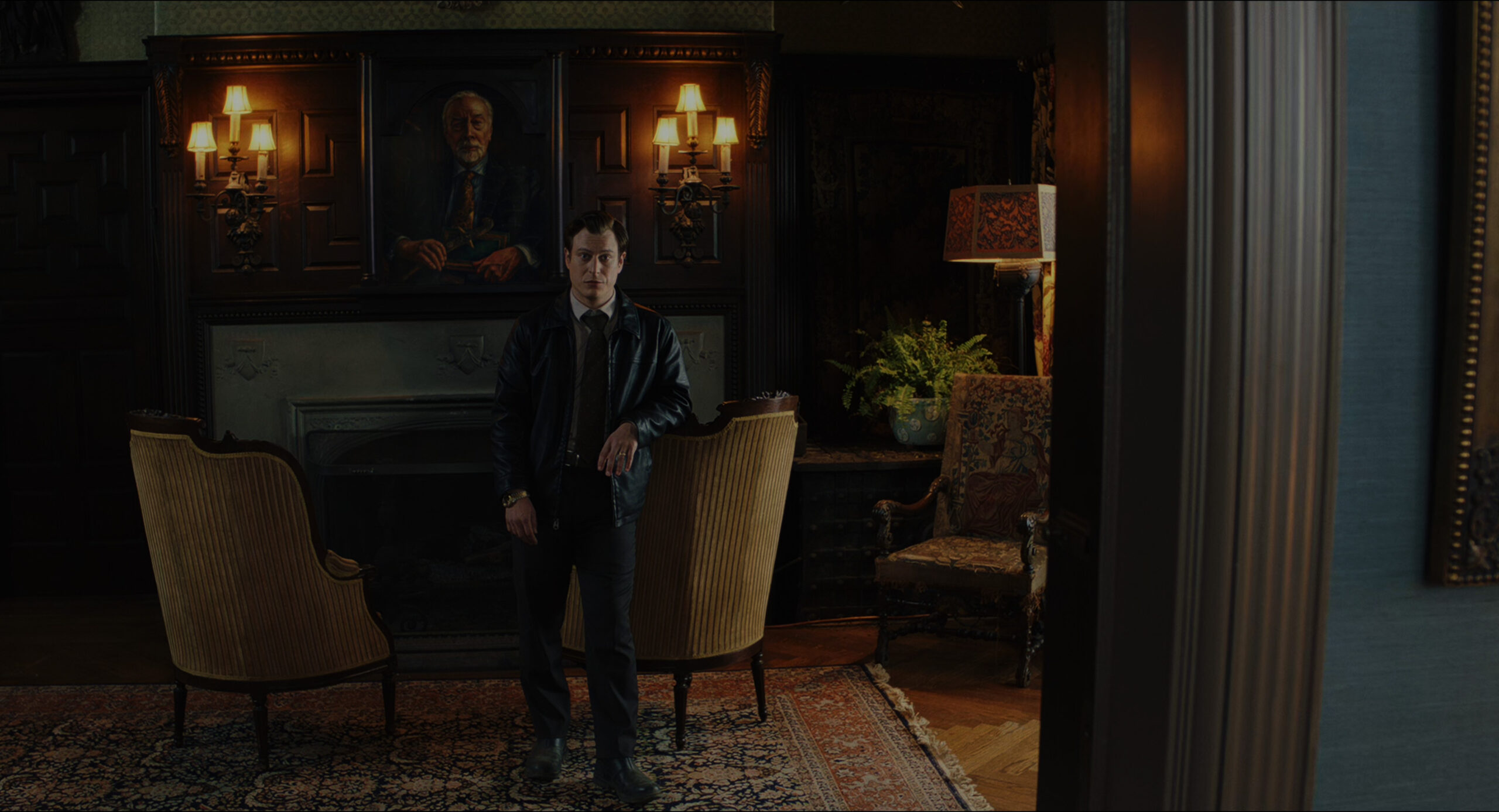 Knives Out (2019)
Directed by Rian Johnson
© Lionsgate / MRC

Cinematography by Steve Yedlin
Colorist: Aidan Stanford

Arri Alexa 65, Arri Prime 65 Lenses (one shot),
Arri Alexa Mini, Panavision Primo, PCZ, PZW and
Zeiss Master Prime Lenses
Panavision PSR R-200, Panavision Primo and
PCZ Lenses (some scenes)
Knives Out (2019)
Directed by Rian Johnson
© Lionsgate / MRC

Cinematography by Steve Yedlin
Colorist: Aidan Stanford

Arri Alexa 65, Arri Prime 65 Lenses (one shot),
Arri Alexa Mini, Panavision Primo, PCZ, PZW and
Zeiss Master Prime Lenses
Panavision PSR R-200, Panavision Primo and
PCZ Lenses (some scenes)
Homecoming (TV Series – 2018)
Directed by Sam Esmail / Kyle Patrick Alvarez
© Amazon Prime Video

Cinematography by Tod Campbell, Jas Shelton
Colorist: Walter Volpatto

Camera & Lenses:
Panavision Millennium DXL,
Panavision G-Series Lenses
Mindhunter (TV series)
Created by Joe Penhall
Production company: Denver and Delilah Productions
© Netflix

Directed by
David Fincher … (7 episodes, 2017-2019)
Carl Franklin … (4 episodes, 2019)
Andrew Douglas … (2 episodes, 2017)
Asif Kapadia … (2 episodes, 2017)
Tobias Lindholm … (2 episodes, 2017)
Andrew Dominik … (2 episodes, 2019)

Cinematography by Erik Messerschmidt, Christopher Probst
Colorist: Eric Weidt

Camera & Lenses:
Red Xenomorph Dragon, Zeiss Ultra Prime,
Leitz Summilux-C and Fujinon Premier Lenses (season 1)
Red Xenomorph Helium, Leica Summilux-C and
Fujinon Premier Zoom Lenses (season 2)
Mindhunter (TV series)
Created by Joe Penhall
Production company: Denver and Delilah Productions
© Netflix

Directed by
David Fincher … (7 episodes, 2017-2019)
Carl Franklin … (4 episodes, 2019)
Andrew Douglas … (2 episodes, 2017)
Asif Kapadia … (2 episodes, 2017)
Tobias Lindholm … (2 episodes, 2017)
Andrew Dominik … (2 episodes, 2019)

Cinematography by Erik Messerschmidt, Christopher Probst
Colorist: Eric Weidt

Camera & Lenses:
Red Xenomorph Dragon, Zeiss Ultra Prime,
Leitz Summilux-C and Fujinon Premier Lenses (season 1)
Red Xenomorph Helium, Leica Summilux-C and
Fujinon Premier Zoom Lenses (season 2)
Mindhunter (TV series)
Created by Joe Penhall
Production company: Denver and Delilah Productions
© Netflix

Directed by
David Fincher … (7 episodes, 2017-2019)
Carl Franklin … (4 episodes, 2019)
Andrew Douglas … (2 episodes, 2017)
Asif Kapadia … (2 episodes, 2017)
Tobias Lindholm … (2 episodes, 2017)
Andrew Dominik … (2 episodes, 2019)

Cinematography by Erik Messerschmidt, Christopher Probst
Colorist: Eric Weidt

Camera & Lenses:
Red Xenomorph Dragon, Zeiss Ultra Prime,
Leitz Summilux-C and Fujinon Premier Lenses (season 1)
Red Xenomorph Helium, Leica Summilux-C and
Fujinon Premier Zoom Lenses (season 2)