HOW TO INSTALL
POWERGRADES IN DAVINCI RESOLVE
---
1.
Download and unzip the zip archive using the download link sent to your email.
2.
Open DaVinci Resolve 17 and go to "Color" Page.
3.
Select or create a new PowerGrade. (right-click: Add PowerGrade Album)
4.
Right-click anywhere in the gray area of the Gallery, and choose Import.
5.
Navigate to the directory where the zip file was extracted and select the .drx file and click import.
Once installed, the PowerGrade can be applied to the selected shot by middle mouse button clicking on the Still in the Gallery. Or "right-click" on the PowerGrade and select: Apply Grade. Check out "How to use PowerGrades" to learn more about how to apply a single node from a Power Grade to your Node Tree.
---
HOW TO INSTALL
LUTS IN DAVINCI RESOLVE
1.
In DaVinci Resolve open "Project Settings". Go to "Color Management", "Lookup Tables". Click on "Open LUT Folder".
2.
Drag & Drop the "MONONODES" Folder (including .cube files) into the "DaVinci Resolve LUT Folder".
3.
Back in DaVinci Resolve, click on "Update Lists".
---
HOW TO INSTALL
DRFX FILES
e.g.
MONONODES FILM
DAMAGE GENERATOR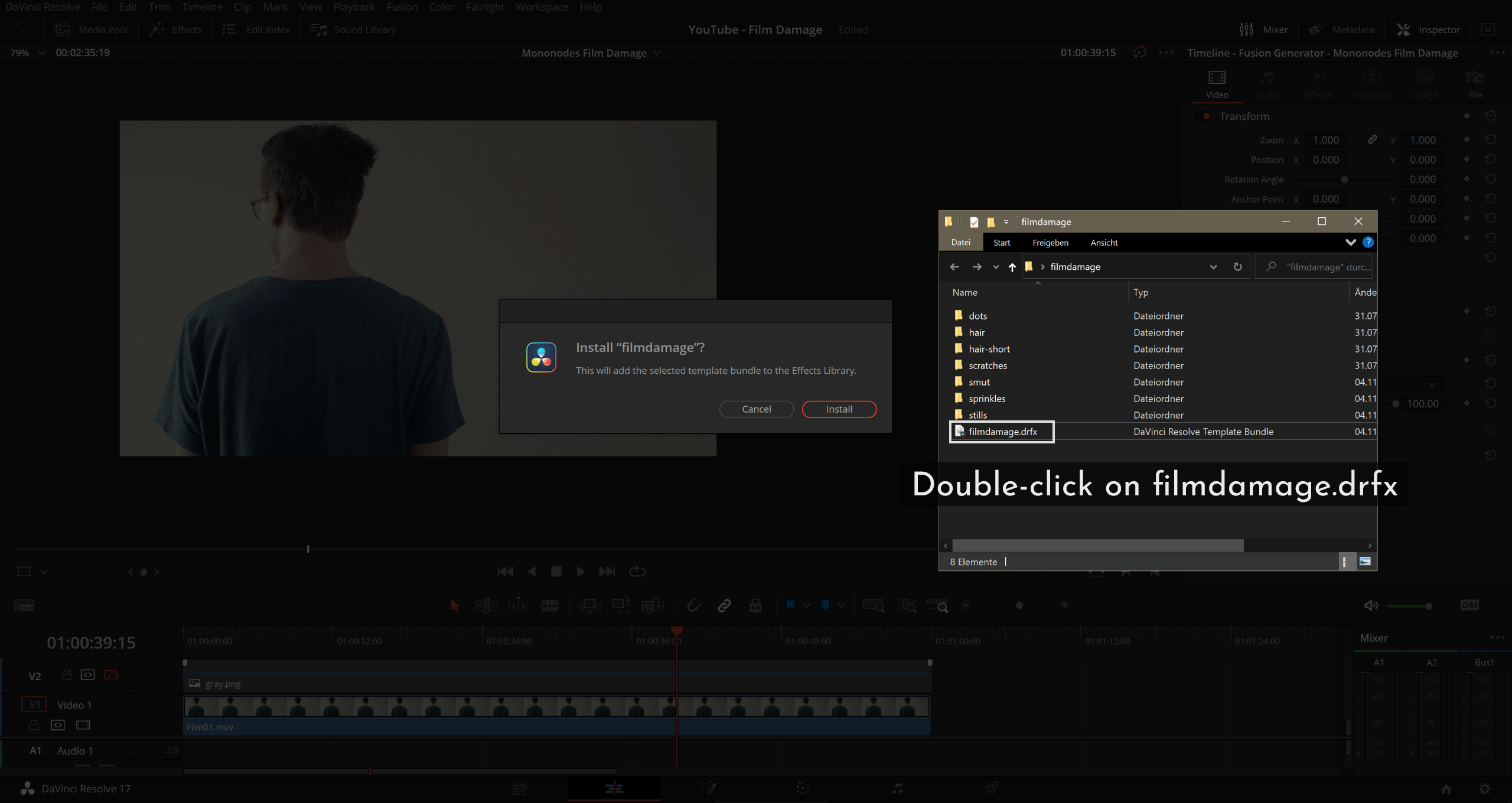 1. Download the ZIP file and extract the ZIP file.
2. Open DaVinci Resolve. Double-click on filmdamage.drfx. Click "Install".
3. Go to the EDIT Page, open the "Effects Library". Go to "Fusion Generators" and drag and drop the "Mononodes Film Damage" onto your Timeline.
4. Done.
INSTALL LOCATIONS
Resolve will automatically "install" the .drfx file in these locations:
On macOS: Macintosh HD/Users/username/Library/Application Support/Blackmagic Design/DaVinci Resolve/Fusion/Templates/
On Windows: C:\Users\username\AppData\Roaming\Blackmagic Design\DaVinci Resolve\Support\Fusion\Templates\
On Linux: home/username/.local/share/DaVinciResolve/Fusion/Templates/
HOW TO UNINSTALL
1. Navigate to the appropriate template
directory in your file browser.
2. Delete the "filmdamage.drfx" file.