COLOR MANAGEMENT
IN DAVINCI RESOLVE
---
INTRODUCTION
WHAT IS COLOR MANAGEMENT
Color management is a technique used to transform the color space of an image captured by a camera into the color space of a display. This blog post will walk you through the basics of color management, particularly the difference between "scene referred" and "display referred" workflows, and what a scene referred workflow entails. I'll also share a CIE chart and some helpful videos to further your understanding.
---
SCENE REFERRED
Digital cameras capture high dynamic range image data to accurately represent the original scene. In a scene referred workflow, we are not restricted to the camera's color space; we can also transform the data into wider color spaces like ACES or DaVinci Wide Gamut. This allows us to maintain the original scene's dynamic range and color
DISPLAY REFERRED
During the era of analog film and telecine, most workflows were display referred. Regardless of the original recording format, the content was promptly transformed into a display color space, such as Rec709. The grading then followed.
---
SCENE REFERRED
WORKFLOW
ONE EXAMPLE
The simplest scene referred workflow example is transforming the image from LOG to Rec709 color space at the end of your node tree (like at the Timeline level) and doing the grading beneath it in your camera's LOG space before the Color Space Transform (CST).
---
SCENE REFERRED
WORKFLOW
ANOTHER EXAMPLE
Another scene referred workflow using node-based color management involves starting with the LOG space of your camera. A CST is used to transform the image data to "DaVinci Wide Gamut Intermediate" (DWG). The grade is performed next, and at the end of the node tree, we transition from DWG to the final display output, such as Rec709.
---
ACES WORKFLOW
ANOTHER SCENE REFERRED WORKFLOW
Here's another scene referred workflow using the ACES (Academy Color Encoding System) model:
IDT (Input Device Transform) converts image information from the existing format into the ACES color space.
RRT (Reference Rendering Transform) applies an ACES-defined look designed to mimic traditional film.
ODT (Output Device Transform) converts image information from the ACES color space into a display color space.
---
CIE CHART
CIE 1931 CHROMATICITY DIAGRAM
The CIE 1931 Chromaticity Diagram is a vital tool in color grading, displaying all color perceptions recognizable by the human eye. Various color spaces, like Arri LogC and Rec. 709, are represented as distinct areas within this diagram.

Arri LogC, representing a larger color space, covers a more extensive area on the diagram, reaching towards the outer boundaries. This larger coverage allows it to capture a wider range of colors, providing you with increased flexibility when color grading in DaVinci Resolve.

In contrast, Rec. 709, a smaller color space, fits within a more contained area of the diagram. It's designed to align with the color reproduction capabilities of standard displays, such as TVs or computer screens. This means that some of the more vibrant colors captured within larger color spaces may not be included in Rec. 709.

As a colorist, it's beneficial to work within a larger color space like Arri LogC as long as possible to retain the maximum range of colors. Once you've made your adjustments, you can convert your work into a smaller color space like Rec. 709 for display. This ensures that you're making the most out of your color information, even when ultimately viewed within a more limited color space.
---
VIDEOS
ON COLOR MANAGEMENT
To further your learning, I've curated a collection of instructive online videos about color management. I'll start by sharing a video by Darren Mostyn, who explains a CST workflow — my preferred method as it grants the most control over the color management pipeline.
CST Color Management in 11 minutes
Three levels of color management
Fantastic video by Cullen Kelly.
Recorded live at ResolveCon 2022
Learning Color Management In DaVinci Resolve 17 – Sp Guest: Daria Fissoun
Color Management explained
by Daria Fissoun.
Fusion Color Management
Color Management in Fusion explained
by Daria Fissoun.
Color Management in DaVinci Resolve 17
---
DAVINCI RESOLVE
REFERENCE MANUAL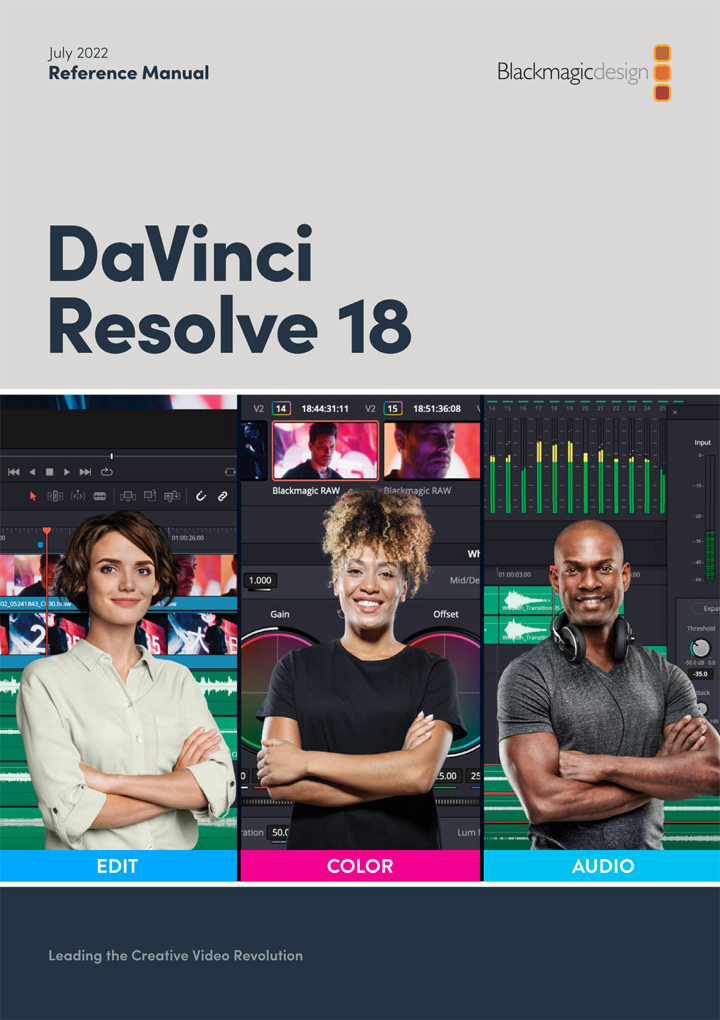 Last but not least. I highly recommend taking a look in the user manual by DaVinci Resolve.

Page 194 – Chapter 9 – Data Levels, Color Management, and ACES
Pahe 203 – Introduction to DaVinci Resolve Color Management
Page 205 – The Input, Timeline, and Output Color Space
Page 207 – The RCM Image Processing Pipeline
Page 215 – DaVinci Wide Gamut Color Space and DaVinci Intermediate Gamma

You can download it here:
https://www.blackmagicdesign.com/support/family/davinci-resolve-and-fusion
---
FULL VS. VIDEO LEVELS
QUICKTIME TAGS & REC709-A
MORE LINKS